Soybean meal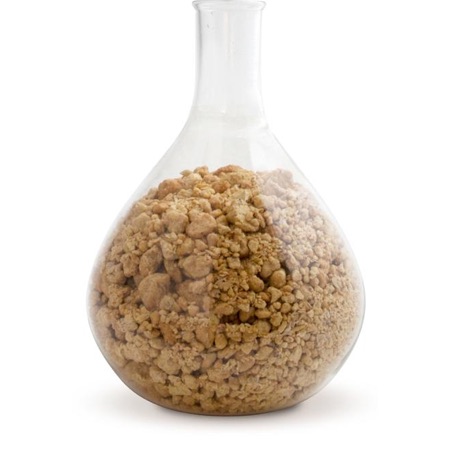 SOYBEAN MEAL is the product remaining after extracting most of the oil from whole soybeans.
Soybean meal contains a wide range of minerals, amino acids and proteins. Soybean meal contains a high level of protein and has the highest lysine digestibility (91%). It also ranks high in methionine, cystine and threonine digestibility. The benefits from the use of soybean meal is undeniable and proven practices, so a ton of soybean meal (10% of the bulk feed) + other components for animal feed= 10 tons of balanced protein and amino acid composition of high quality feed= 15 tons of feed grains (in quantity), and in quality equal to the feed required to produce two tons of pork. Soybean meal is recommended to use for feeding cattle birds, fish and animals, as in its origin is close to animal proteins. When included soybean meal in the diets, mainly consider the specifications of the basic substances in the diet and the price. It is possible to add soybean meal in basic ration of any animals and birds. Soya protein is digested well by organism and by the biological value it is close to the proteins of animal origin. High energy and protein content in soybean meal allows making high protein and high-energy rations without using expensive animal feed. The amino acid composition of soybean meal is an excellent addition to the proteins of cereals to meet the nutritional needs of swine, poultry and cattle.
As a basis for animal feed, soybean meal has a positive effect on
Daily weight gain of chickens by 8 %, of piglets by 6 %.
Increasing of milk yields and improving the quality of milk
Improved digestibility
Improving the overall condition of animals.
Reduction of mortality.
| Quality characteristic | Analysis results |
| --- | --- |
| Protein content, under actual moisture,% | 46-47 |
| Moisture content, % | 12,0 |
| Fat content, under actual moisture, % | 1,5-2,5 |
| Fiber content under actual moisture, max % | 3,5 |
| Urease activity, pH modification | 0,02-0,2 |
We offer for supply high-protein soybean meal produced in Argentina and Ukraine. To buy soybean meal you can contact us by phone or via feedback form. Our managers will tell you the actual price of soybean meal and consult on how to use it.