MVC: Cereals-Mixed Feed-Veterinary-2018
09.02.2018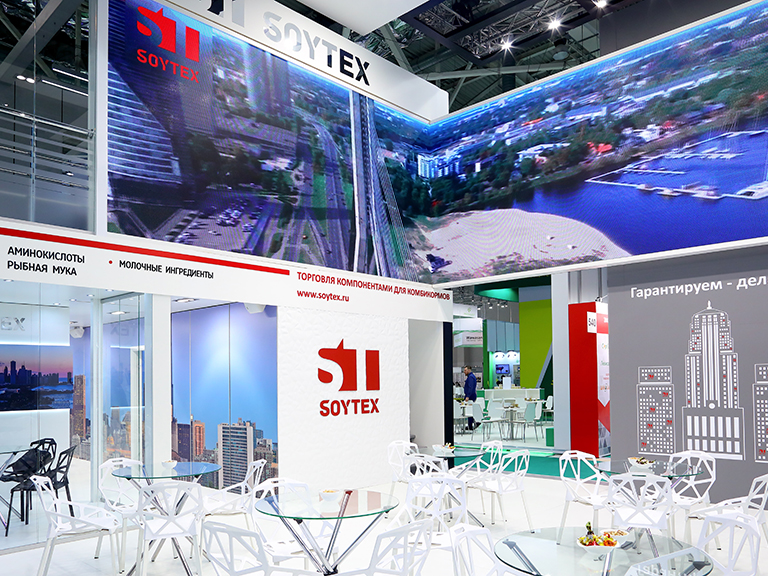 On January 30 - February 1, 2018 the 23rd international trade and industrial exhibition "Cereals-Mixed Feed-Veterinary-2018" was held, in which more than 430 companies from 25 countries took part.
Soytex LLC takes part in the exhibition for the 9th time already, which contributes not only to strengthening relations with partners, but also to the search for new contacts. During the exhibition, many business meetings and negotiations were held, both with regular customers and suppliers, and with new ones. During the talks, the results of joint cooperation were summed up, and plans for promising work for the next year were discussed. Visitors to the stand were guests from Russia, Ukraine, Belarus, Kazakhstan, Uzbekistan, Azerbaijan, China and a number of other countries.
And, of course, the stand of Soytex LLC did not go unnoticed, the concept of which reflected a modern and comfortable office, where all conditions for efficient and fruitful work were created. Traditionally, our stand was marked by the organizers as one of the best!
We would like to thank everyone who visited our stand, and also express our gratitude to the organizers of the exhibition for the professional preparation of the event and the creation of comfortable conditions for effective communication of industry professionals!
If you did not have time to visit our stand, we will be happy to answer your questions by phone + 7 (495) 660 94 94, e-mail info@soytex.ru or using the feedback form!
We bring to your attention a short photo report and see you next year!