Soytex LLC took part in the ZKV-2017 exhibition
06.02.2017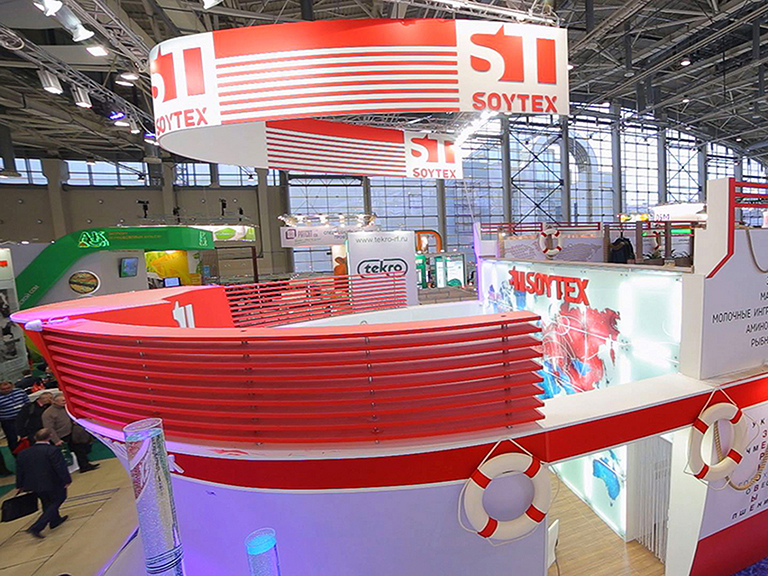 On 31 January-2 February Soytex LLC took part in the international exhibition MVC:Cereals-Mixed feed-Veterinary-2017, which is traditional for the feed industry. The days of the exhibition were very busy and active, as evidenced by the constant flow of visitors at our stand.
During the exhibition, Soytex employees held a large number of negotiations with existing and potential clients, established new contacts for successful cooperation in the future.
I would like to note the company's stand, which stood out for its design among many others and did not leave indifferent any visitor! This year, each guest had the opportunity to go on a joint voyage with us on a magnificent ship that embodied our stand. At the Soytex stand-ship everything was thought out to the smallest detail - everywhere there were marine paraphernalia in the form of ropes, lifebuoys, bells and other details. Each visitor had the opportunity to try on the role of the captain of a large ship by taking a souvenir photo on the photozone-deck with a steering wheel and a full set of marine accessories. On our three-day voyage, we took with us the glorious winged friends of our team: the bright macaw Rosochka and the chatterbox, the Sava cockatoo.
On the second day of the exhibition, as an entertainment program for the guests of the stand and visitors of the exhibition, a bright dance show of pirates was organized. And, of course, all this did not go unnoticed not only by the visitors of the exhibition, but also by the organizers themselves. As a result, our company received an award for an extraordinary stand!
Thanks to everyone who visited our stand, thanks to the organizers for the comfortable working conditions provided. We hope for fruitful cooperation and meeting next year, and we will continue to delight you with our productive work and surprise you with creative ideas!
We present to your attention a short photo report!